emilie_rainbow
WEDDING SPAM TIME.
I think for a dress I've officially narrowed it down to either being a regency style gown, or a 50's cocktail/tea-length style. Baby pink would be nice, but I'm fine with white as long as it's a soft shade of white. I actually don't want too much decoration on the dress itself; so much wedding dress frothery ends up looking extremely cheesy and that is the LAST thing I want. Some sequins or an applique would be fine, a semi-cheesy cloth flower would be good, but not much more.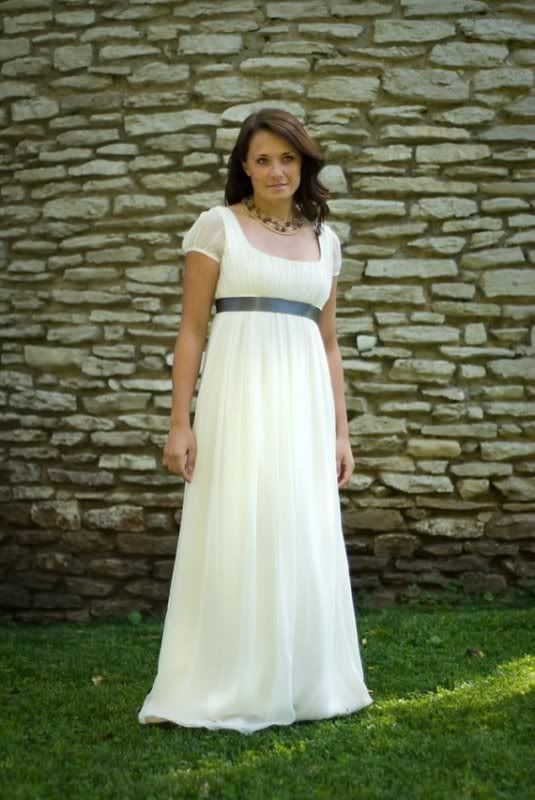 I'd shorten this a bit and use a pink sash, but isn't this just a lovely, simple look?
Another Regency-type one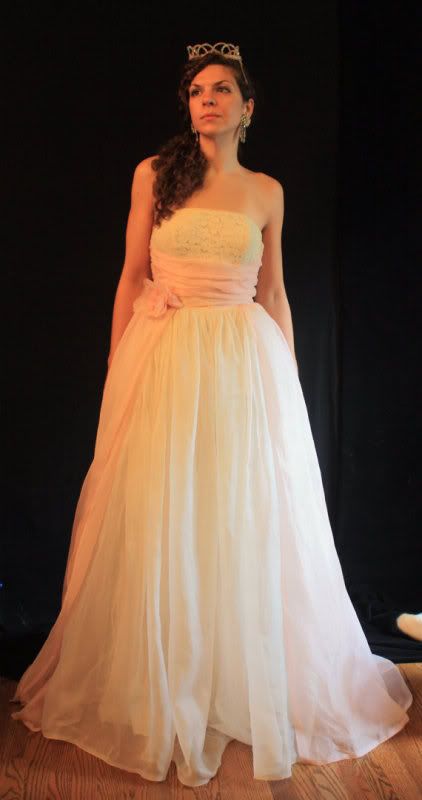 GAHH THIS ONE IS PRETTY. It borders the cheese line, but hnnnng.
More Simple, but pink!
and
Shorter
.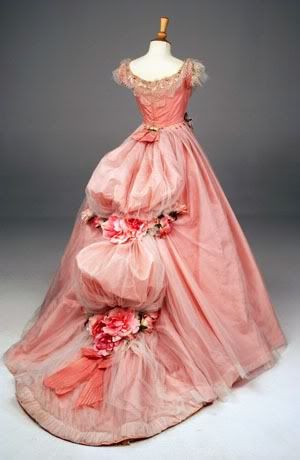 My one dress style exception. If I could get a dress like this that didn't look cheesy...unf.
It's hard to think of accessories without having the dress pinned down. I DO know that I want Jesus Diamante-style shoes cuz: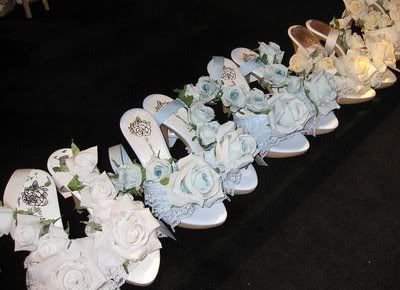 Who wouldn't? I also hope my underthings will look something a long the lines of this:
but we'll see cuz that's more what
I
like, and the lingerie should be at least partially about what
he
likes.
I definitely want my hair to at least have pink streaks. Ideally, lavender and aqua, too, but with my main hair color brown so I can curl it and the streaks can be pops of color. I don't want to wear my hair all up, but probably not all down. I just know: curls and flowers.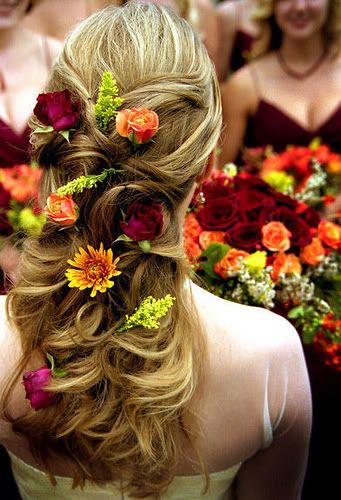 I'm mostly stuck between the garland/wreath/crown look and the flowers casually tied into the hair look. Both so pretty. Crowns can come off costume-y, though, so I might not go that way, even though I do love them.
Moar
.
Bridesmaids dresses are hard. I really want a pastel rainbow, but I don't have enough close friends to achieve such a thing. I will realistically have 2-3 bridesmaids, plus my brother who has already agreed to whatever color tux I want to stick him in. This is my general idea, but I imagine I'll find specific dresses for the specific ladies when the time comes. They'll probably be in 50's prom lace monsters in pastel colors.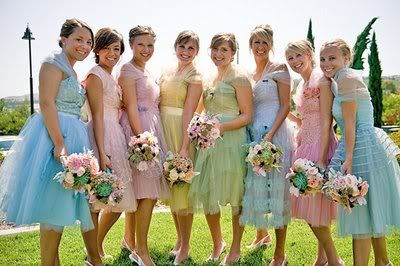 My bouquet will no doubt be a source of ETERNAL TORMENT for me. Aside from the fact that I will obsess over the meaning of each individual flower because I am overly symbolic/superstitious like that, I want pastel rainbow cuz that's the theme! But I'm drawn to bold color flowers which don't match anything. Also purple, which
is
one of my colors, but not the main one! But sooo prettyyyy...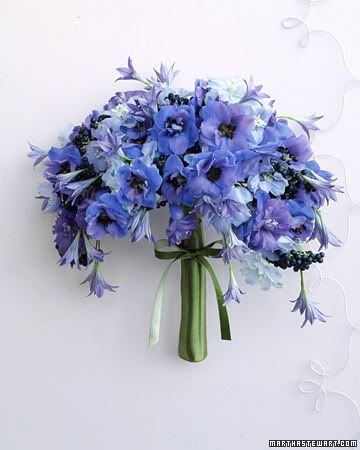 More purples
.
I think a lot of what I like is the "wildness" of the bouquet with the purple flowers, because they tend to be the kind that hang and aren't neatly wrapped up in themselves like roses. I want a wild bouquet.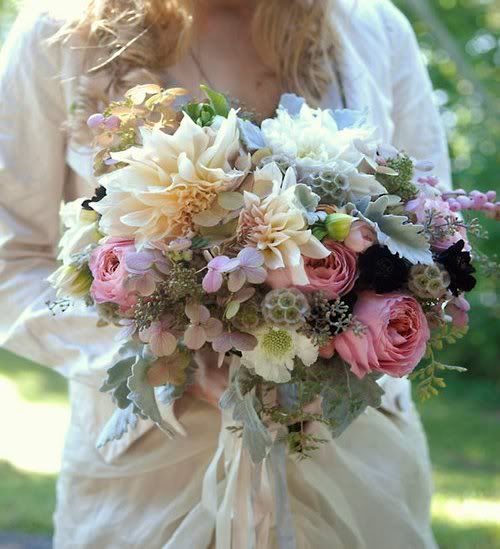 I don't care that much about the cake. Like, if my husband doesn't care, I'll end up picking a fondant monster that will look better than it tastes, but the cake doesn't have to be perfectly me like I want a lot of the other things to be. I don't even have a picture, that is how little I care.
The setting is incredibly important to me, and it probably where I'll have to make the most compromise. I doubt the fairy garden image I have in my head actually exists in a place that's within my price range. Since this was mostly a let's-troll-we-heart-it-for-pics kind of spam, I don't know much about local bay area locations. I don't want to get too attached to anywhere anyway, in case I'm not here when I end up getting married. I will NOT be going back to SM, though. F that. It's all wineries and golf courses there. I want something gardeny or foresty. I want things to be hanging, lights and flowers and lanterns and pearl strands.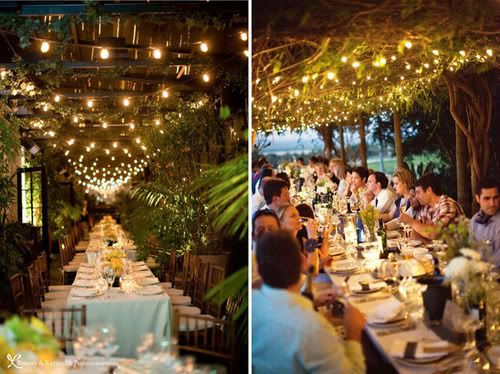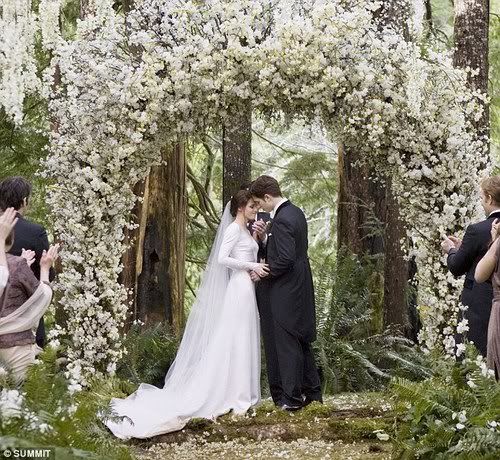 I KNOW IT'S TWILIGHT, SHUT UP HER WEDDING WAS BEAUTIFUL. Also this is the most amazing thing:
AHHHHHHHHHHHHHHH. I can't words after that.
I'm actually not interested in getting married right now, though. Or even engaged. I love Jeremy to pieces, but it took me SIX YEARS to realize Joel was wrong for me, and we've only been together two. Granted, Joel and I were babies when we started dating, but even with the maturity adjustment I want another 2-5 years before I'm a wife. A WIFE. That's just such a weird, foreign concept to me. Which is exactly why I shouldn't be married. That and I need to feel more settled, in my life and in my own head. With the way my anxiety and depression have been looming so large for me lately, it's made me realize that I have a while to go and work to do before I'm ready to be someone's legit, for-life partner. But I'm working on it.
And it's still fun to look at pretty things.